Long before the term "green building" entered our vocabulary, Ann Arbor Builders was building energy efficient features into every home we built, and we'd often hear from clients who were pleased by energy bills that were lower than expected.
In fact, clients who spent the first winter in their new home in 2014 - the coldest on record - said this:  "Our previous home was approximately 1740 square feet and our new home is roughly 3800 square feet, while our energy bills have essentially remained the same or decreased.  We couldn't be happier with how low our energy bills are at our new home."
MEASURABLE ENERGY EFFICIENCY
Today, energy efficiency — and your savings — is measurable, thanks to The Home Energy Rating System (HERS). Much like calculating MPG in a car, HERS is a nationally recognized system that analyzes energy performance in new and used homes, as calculated by an independent, certified home energy rater.
Every home we build includes energy efficient features that are estimated to reduce your energy consumption by 50% or more than new homes built to current codes - and by over 80% more than typical existing homes. For even greater savings, we can help you further reduce your consumption and energy costs.  What shade of green would you like to be?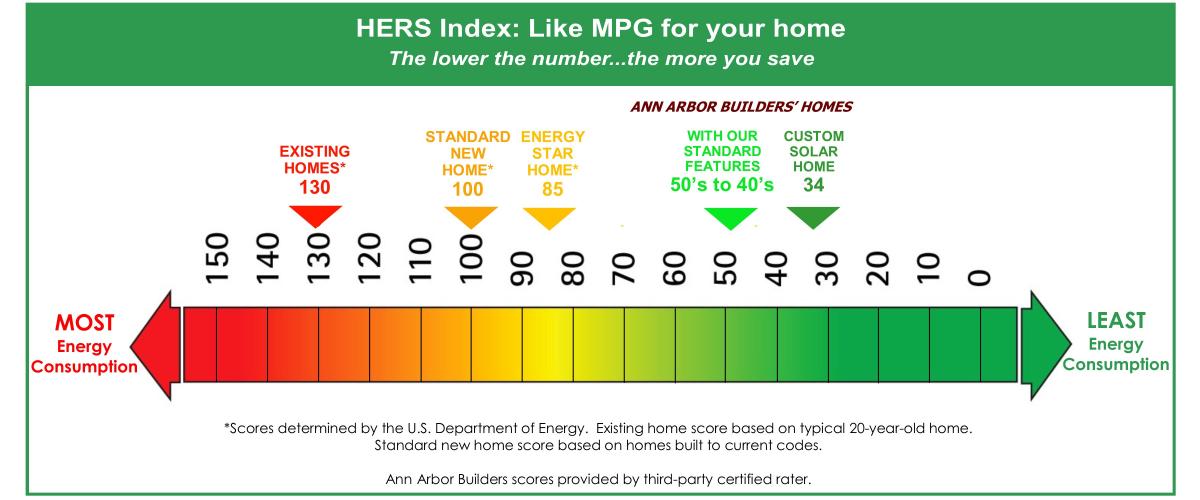 All our homes include: 
     - 96+ High Efficiency Furnace
     - 13 SEER Air Conditioning
     - Programmable Thermostat
     - Insulation: R48 in ceilings, R21 in walls
     - 2 x 6 Wall Construction
     - High Efficiency Hot Water Heater
     - Double Pane, Energy Star Rated Windows With Low E and Argon
     - Complete Interior Caulk Package
ENERGY HEEL TRUSSES
As shown in the diagram below, conventional truss design prevents insulation from fully extending to the edge of the wall. Not only is a cold spot created, but a great deal of hot or cold air escapes in this area.  
By adding a "heel" to the truss, full-depth, uncompressed insulation reaches all the way to the outside wall, thus eliminating the cold spot that is unavoidable with conventional truss design. This also lessens the amount of energy needed to heat or cool the living space and optimizes the efficiency of the HVAC system. 
Raised heel trusses are also called energy heel trusses because they contribute to the energy efficiency of the house. Ann Arbor Builders uses energy heel trusses in every home we build.

HOUSEWRAP
Sheathing on the exterior walls consists of oriented strand board (OSB) which is covered with housewrap. Your walls will later be insulated, but insulation is not designed to block the heat loss attributed to air infiltration. Housewrap is an air infiltration barrier which reduces drafts and outside air that can penetrate your home through cracks and seals. It enhances your insulation's performance and results in greater energy efficiency. Without a protective barrier to combat air infiltration, your energy bills would increase.  
Housewrap also resists water penetration, but it allows smaller moisture vapor particles to escape. This feature reduces the chance of condensation within the cavity of your walls which could be harmful to both your walls and the insulation within them.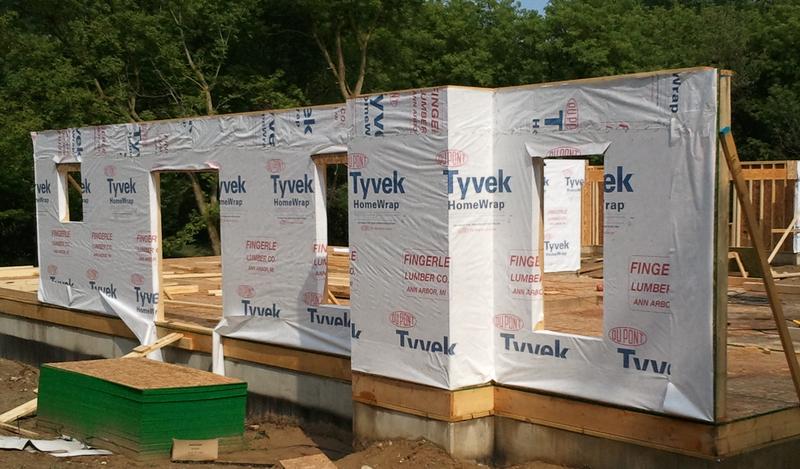 CELLULOSE INSULATION
In the exterior walls, we typically use wet spray cellulose which is made of approximately 80% recycled newspapers and is denser and more resistant to air flow than fiberglass. Because cellulose insulation is sprayed in place, it reaches behind electrical boxes and penetrates into crevices where batt insulation cannot reach, as shown in the picture to the right. Thus cellulose provides better energy efficiency for the exterior walls. 
Since most heat escapes through the attic, higher R-value insulation is necessary. There, we typically use blown in cellulose to achieve a minimum R-48 value.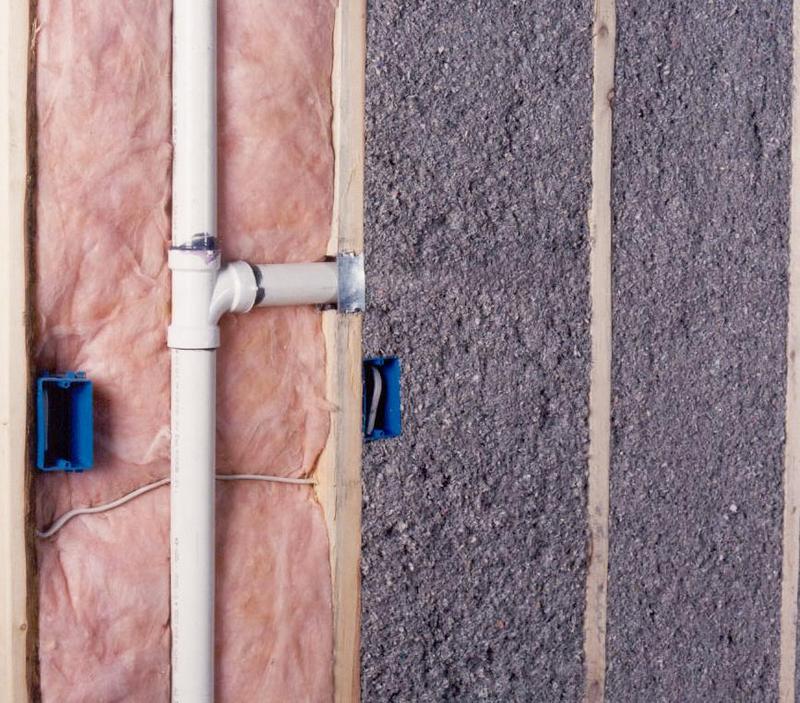 INTERIOR CAULK PACKAGE
Air leakage, or infiltration, occurs when outside air enters a house through cracks and openings where wood meets wood. Properly sealing them reduces energy costs. That's why we include a complete caulk package of all exterior walls, which consists of sealing any areas where outside air may penetrate.