Today, kitchen backplashes no longer simply protect walls from splatters and spills.  The seemingly endless array of eye-catching materials have turned them into focal points. 
What if you don't want switches and plugs to interrupt it?
The solution is under cabinet power strips.  The result?  A seamless backsplash.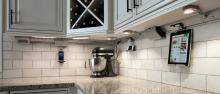 Choices range from a strip of plugs that are either flat or angled to a customizable system with LED lighting and outlets. Docks for smartphones and tablets and even a speaker can be added so that you can charge your devices while you're working in the kitchen without cord clutter on the counter.
If you decide on a customizable system, Pam Adams, Lighting Consultant at Gross Electric, will help you design a system that's just right for you.  To make an appointment, give Pam a call at (734) 665-8676.
- Betsy de Parry, VP, Marketing and Sales, (734) 216-5872 or info@annarborbuilders.com