Thursday, August 27, 2015
Mirror, mirror, on the wall.  Who's the fairest of them all?
She (or he!) who has the right light in the master bathroom - that's who!
After all, lighting is the key to looking your best when you step outside the room.  But with so many beautiful fixtures available, how do you choose the right ones and know where to put them? 
There's no single or simple answer to that question, so I sat down with Pam Adams, lighting consultant at Gross Electric, for advice.
 "The size of the bathroom, the wall color, the layout, the ceiling height and whether or not there is a window all impact lighting needs," Pam explained.    
She added that dark walls, higher ceilings, and no natural light will require higher light levels since there is no reflectance.
Lighting over the vanity, says Pam, should wash the mirror.  Linear lights (sconces) provide cross lighting which casts more even lighting and fewer shadows than down lighting from a light above the mirror. They also allow for a higher light output (lumens or wattage.)
For best illumination, they should be about 30" apart. 
Indeed, sconces are popular, but they require careful planning because placement impacts not only the electrician but also the plumber, and the size of your vanity will dictate whether or not there's room to hang a mirror between them.
For example, if you have double sinks, you'll likely have 3 sconces – 1 in the middle and 2 on each end.  The sinks should be centered between the middle and end sconces so that the mirror above the sink ends up centered over the sink and between the sconces. 
In order to accomplish this, sconces should be planned before rough plumbing begins so that the plumber knows where the sinks will be located.
If you're planning to hang a decorative mirror between sconces, a vanity with 1 sink and 2 sconces on each side should be a minimum of 42" wide.  A vanity with 2 sinks and 3 sconces should be a minimum of 72" wide.
In both cases, there is approximately 30" from the middle of 1 sconce to the other, leaving room for mirrors that range from 20" to 24" wide depending on the width of the sconces.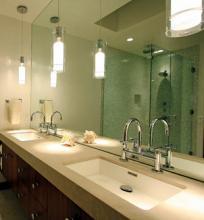 Translated?  Not every bathroom can accommodate sconces. But not to worry - lights above the mirrors can also do the job.
And as seen in this photo, you can always get creative with pendants!
As for lighting elsewhere in the room, Pam suggests that additional lighting is a good idea in most spaces, depending on the factors she pointed out earlier. 
"Adding an overhead fixture allows you to turn on something else for just going into the bathroom other than going to the sink – lighting in layers, we call it.  And you can always dim it down," she said.
Bulbs also have a big impact.  Pam says that LED is very popular and is a good choice for a white, evenly lit fixture. Halogen fixtures are also popular, but halogen bulbs give off heat whereas LED's don't.  "That shouldn't be a deterrent," said Pam as she talked about the number of "stylishly cool" halogen fixtures available.
So what's right for your bath?  Pam will be happy to help you figure it out.  To make an appointment, give her a call at (734) 665-8676.
And when do you start planning?  It's always best before you start building! At the very latest, before rough plumbing begins.
- Betsy de Parry, VP, Sales and Marketing, (734) 216-5872 or info@annarborbuilders.com